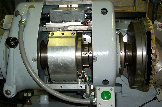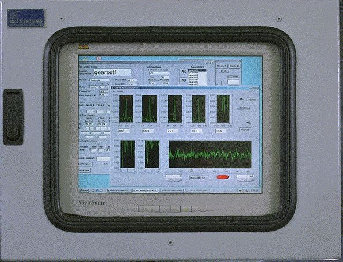 Spindle housings are modified to incorporate rotary encoders and DC Drives;
Pinion Spindle DC Vector Drive capable of 0 ~ 1600 RPM ;
Gear Spindle with GEI Systems modifications to integrate a frameless high performance DC motor with brake capability up to 100 ft-lbs of torque.;
Optical Encoders Integrated in each spindle through proprietary hubs and adapters and GEI System electronics are capable of delivery a resolution of better than 1 micro-radians.
Vibration systems (including):
Accelerometers and Signal conditioner
Acoustic Systems (including):
High performance microphone
Signal conditioner
Optional Equipment
Digital Readouts for Vertical and Horizontal Settings and Gear Cone Distance;
"CNC" control for "H" parameter to motorize the pinion cone distance;
Video Feedback (including):
Miniature camera with articulated mounting bracket
Video board to display the image on the computer screen
This retrofit is based on the frame of Gleason 17A manual Tester
Gleason 17A is a TradeMark of Gleason Corp
Computer screen with test results
GearSpindle with integrated DC brake.
Phone:(612) 922-7816
Fax: (612) 920-7955
E-mail: info@geisystem.com
GT55 Retrofit Model Single Flank Tester