Transfer Case Tester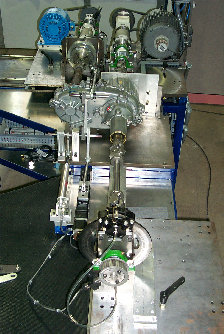 This tester is different from other transmission testers by having three controlled shafts - not two:
One input shaft and two output shafts.
Input shaft is controlled by a DC motor with vector drive for a preset RPM profile during the test.
One output shaft is attached to the magnetic particle load precisely controlled by computer.
The second out shaft is attached to the mechanical brake controlled by an air servo valve.
There are two inline torque meters to measure the load during the test.
The shifting arm is controlled with a proprietary actuator to provide quick and reliable shifting to any desired position.

The shifting arm is equipped with a load cell to measure shifting effort.
A magnetic particle brake is attached to the output shaft through the computer controlled clutch.
Tester is also equipped with a pressurized system to perform the "leakage test".

The tester is designed to accommodate a wide variety of different transfer cases.
Phone:(612) 922-7816
Fax: (612) 920-7955
E-mail: info@geisystem.com