Alternator Testers.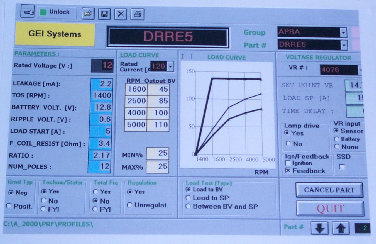 There are two major modes of operation:
Self Excitation mode (Internal Excitation) with the Regulator in Circuit;
External Excitation, when the voltage regulation is provided by an external computer controlled regulator / profiler.
The system tests all major parameters of the alternator such as :
cut-in speed, ripple voltage, leakage, set point and maximum load capability.
Using GEI's latest design, we have developed a Computer Controlled Alternator Test Line (ATS) ideally suited for manufacturers who demand high performance and fidelity.
Two performance curves can be obtained during the test. The first curve represents the maximum load vs. shaft RPM at full field conditions or battery voltage. The second curve demonstrates the maximum load which is obtained at any voltage level between an alternator set point and the battery voltage preset by the test profile.

Both curves are obtained by controlling the alternator load with a programmable electronic load device and the alternator RPM with vector drive.
Our standard system features a 10HP vector drive for alternator RPM control upto 10,000 rpm and a computer controlled programmable load with up to 200A capability.
Phone:(612) 922-7816
Fax: (612) 920-7955
E-mail: info@geisystem.com